This year has been an eventful one in the world of fashion. We've seen male models walking a female runway, plus size celebrated and many revivals of fashion trends of times gone by. So, this post is dedicated for you all to cast your eyes over some of the highs which made up the fashion trends of 2011
.
This was without a doubt
the
hair trend of 2011. Everyone wanted a piece of the 'I just rolled out of bed with a bobble in my hair' look, from A list celebrities to every single girl walking into a Topshop store. And unlike other seemingly scruffy fashions, this one actually looked well executed no matter how it was done.
Sometimes it was small and scraped back on the top of the head like a DIY facelift and then sometimes it was big and messy like you had a siamese twin still stuck to you. However, no matter the look the messy bun reigned supreme throughout 2011.
I guess you could argue that animal print is one just of those trends that never really goes completely away. However it cannot be denied that it definitely got a new lease of life in 2011, from shoes to necklaces to dresses to shirts, you could have literally dressed yourself head to toe in animal print if you really had a desire to.
Summer 2011 saw a tidal wave of skater dresses hit high street stores up and down the country. They came in all colours, lengths and styles and because they could be worn by a girl of any body shape were an instant fashion triumph.
4. Coloured denim
Stemming mainly as a tool to colour block, coloured jeans stormed down the catwalks and across the high streets, these easy to wear pieces of clothing gave any could be plain and simple outfit that new, more exciting feel.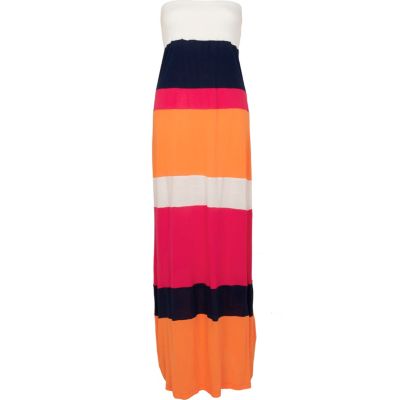 Colour blocking in my opinion was possibly the fashion trend of 2011, the Spring 2011 runways were brimming with gorgeous bright colours after that awful long, dark winter.

This trend was about lightning bolts of colour; shocking pink, flaming orange, neon-lime, fiery red, fluorescent violet and electric blue, all worn in one perfectly styled outfit. Sounded weird at first, but when pulled off correctly made an look worth dying for.
It Is fair to say this trend did not suit everyone, but
it's undeniable that this was
massive.
Some hated the midi, while others were glad to have an option other than the mini or maxi, its still going on into 2012 so I guess you'll have a bit more time to make up your mind.
Items Shown in Order: (
TOPSHOP) ANIMAL PRINT SHORT, (TOPSHOP)
PETITE ANIMAL PRINT BODYCON, (BOOHOO)
Cameron PU Skater Dress, (
ASOS) HIGH WAISTED SKINNY JEAN LILAC, (RIVER ISLAND)
NAVY COLOURBLOCK MAXI DRESS and (MISSGUIDED)
KATKA FAIR ISLE PRINT KNITTED MIDI SKIRT